Meet our Coaches
Founder and Lead Coach: Duane Jones
Since 1965, Duane Jones has been involved in coaching, with an expertise in all components of fitness, including nutrition and wellness. Duane has a Masters in Biology and Anthropology as well as a PhD in Exercise, Wellness and Nutrition.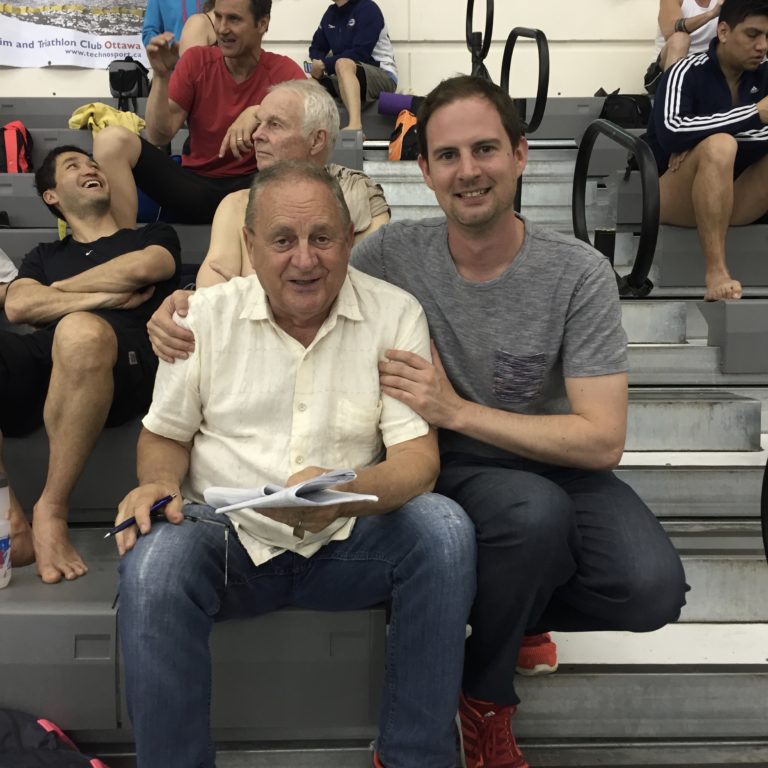 Duane began coaching at the elite club level – junior, national and Olympic swimmers. He traveled over half the year, around Canada and the world with his athletes, gaining a solid reputation, and results. He was also lured to Carleton University to establish a varsity swim team, which went on to win medals at the Canadian university championships.
Duane's reputation as a coach grew over time – he attracted the Canadian Olympic swim champion Alex Baumann into his fold – yet he wanted the freedom to offer his expertise and philosophy of personal excellence to all athletes, not just swimmers. Thus, he founded Technosport in 1995.
"I coach swimmers, runners, cyclists, triathletes, skiers, soccer players, and boxers. I always focus on the whole athlete to ensure speed, strength and endurance – whatever their sport, whatever their level."
In 2011 Duane was the recipient of the prestigious Canadian Excellence in Coaching award, a recognition of his coaching excellence as well as his contribution to the development of all of his various athletes over the years.
Coach Duane in the news:
Head Coach (on professional sabbatical): Ryan Jones
Coach Ryan has been a part of the swimming world since he was three years old – first as a young athlete, and then as a passionate coach with a love for swimming inherited from his father, Duane Jones. Ryan became a lifeguard, and did a lot of work with the very young swimmers as well as disabled adults.
Currently, Ryan is coaching in Whistler BC with the Whistler Sea Wolves, where he is doing age-group and Master's coaching. Ryan has a background in Recreation & Leisure Management as well as Marketing, and currently has a private pilot license as well. He's also a former ski racer and downhill ski coach. His leisure activities are always centered around water (paddleboarding) or mountains (downhill biking) with his faithful dog Roxy in tow.
Specialty Group, Camp and Practices Coaches
A special thank you to these great coaches who have made a difference to the swimmers on our team!
PATRICIA ANGUS
NADINE BENNETT
DANIEL BERUBE
WHITNEY BOND
BRIDGET CAREY
JESSICA CAWTHORN
CHRISTINE CHARON
COURTNEY CHUBB
DEJAN CUSTIC
SYLVIE DELIENCOURT
SCOTT DICK
MICHAEL DOWNING
NIC DUFOUR
MAURICE GIBBS
REBECCA GLENNIE
OLIVER GOMES
ALEXANDRA GRANT
FIONA GRANT
MARGOT HALL
ROGER HANNA
PAULA HICKMAN
JASON KINCAID
TATYANA LACHOWICH
CAROLINE LADANOWSKI
MARTY LAUNIERE
ERIK LEICHT
DOUG LLOYD
GENEVIEVE MACKWOOD
CHRIS MCARTHY
JENNIFER MCARTON
STEVE MEDAGLIA
WENDY MILFORD
ANNELISE MILLER
PAT NIBLETT
MIKE OLSEN
CHRIS PILON
AUDREY PRAYPAL BROWN
ROBERT READ
JUSTINE SCHWEIZER
TERESA SCULLION
ANDY SHELP
GARTH SINDREY
JENNIFER STEINBERG
JOHN TIMMERMANS
CHRIS WAGG
JAMES WILDSMITH
DONNA WOODMAN
YOGI ALVARO
KAREN ZERR